Blog
Posted by Raquel Paulo on
Posted by Raquel Paulo on
  I have always been interetested in the stone meanings and healing properties of gemstones. In learning about gemstones over the years, I understand there are genstones for every mood or feeling and can support the wearer (in the case of gemstone bracelets) in many ways. I'd like to share the top 8 gemstones that I love for grounding (in no particular order). Hematite Stone associated with the root chakra, a grounding and protective stone.  It helps to absorb negative energy and calms in times of stress or worry. Not only is it a great stone for grounding, I love...
Posted by Raquel Paulo on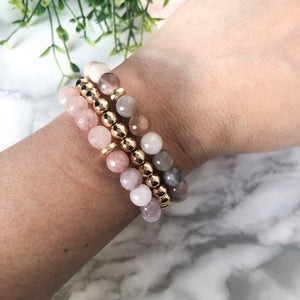 An overview of the difference between wearing your gemstone bracelets on your right vs. left wrists.
Posted by Raquel Paulo on
Posted by Raquel Paulo on
If you're like me, you love the scent of the essential oils diffusing around the house. Depending on the day, I will select the blends based on my mood.  During the Fall months, I love scents to reflect the season - Cassia, Nutmeg mixed with citrus scents like Orange or Grapefruit. Below are my top 3 favourite Fall blends - I hope you enjoy them as much as I do!    If you like these blends, be sure to let me know via email hiddengemsbyraquel@gmail.com.  Enjoy!
---