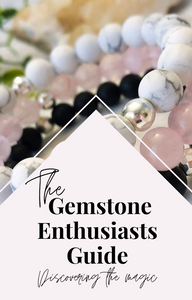 The Gemstone Enthusiasts Guide: Discover the Magic
This guide is the ultimate resource for anyone looking to dive into the world of gemstones, whether you are a beginner or an experienced collector.
Inside, you will find an overview of over 20 gemstone meanings and benefits, as well as an in-depth exploration of the 7 chakras and the gemstones associated with each.
Additionally, we delve into the topic of manifestation and share which gemstones are great for this practice, as well as stones for calming, grounding, and protection.